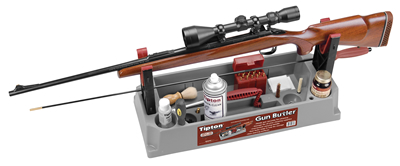 Gun cleaning and maintenance caddy offers convenient storage and transport
Battenfeld Technologies, Inc. officially announced today its new Gun Butler gun cleaning caddy, manufactured under the Tipton brand of gun cleaning products.
The Gun Butler offers a convenient all-in-one cleaning/carrying/storage solution, with two removable non-marring forks (which snap into the base for easy storage) to hold the gun securely in place, while thoughtfully-planned compartments and slots hold bore solvent, jags, brushes, mops, a cleaning rod, spray lubricant, tools – everything a shooter needs to clean a gun – all with a convenient carrying handle for easy transport.
"For many hunters and shooters, gun cleaning is enough of a chore as it is without having to keep track of all the tools and supplies it takes to clean a gun properly," says Dennis Cauley, Product Design Engineer.  "What's more, most people who dependably clean on a regular basis, often clean both at the shop and on the range.  The Gun Butler offers an affordable, convenient solution for both storage and transportation of everything."
The Tipton Gun Butler debuts in the 2009 catalog and should hit shelves in January with an estimated retail price around $25.
More information on Battenfeld family of products for hunters, shooters, reloaders and gunsmiths is available 24 hours a day at this web site or by calling (877) 509-9160 toll free Monday – Friday from 8:00am – 5:00pm Central Time.